... motivatie om een blog post te schrijven als er niet veel te zeggen valt ...
... motivation to write a new blog post ... when there's not much to report about ...
Vorig jaar maakte ik kennis met een nieuwe haaktechniek die nu in opmars is: het Mochilla haken (een techniek die gebaseerd is op deze van de Wayuu indianen in Zuid Amerika). En dit heb ik dan ook zitten doen deze laatste weken. Geen borduren, breien of quilten.
't Is wel verslavend eenmaal je de slag te pakken hebt :-).
Last year I got intrigued by a "new" crocheting technique that is beginning to become quite popular: Mochilla crocheting (a technique based on that of the Wayuu Indians in South America). And that's what I've been doing the last couple of weeks ... crocheting. No cross stitch, knitting or quilting.
It's addicting once you get the hang of it! ;-)
Mijn eerste -

My first one

Ik ben nu bezig aan de laatste fases ... het maken van een schouderband (het is mogelijk om dit in verschillende technieken te doen maar ik hou het maar bij het Mochilla haken :-). Dan moet er ook nog een trekkoordje gemaakt worden in Kumihimo (ook nieuwe techniek voor mij :-)
The bag is finished in the meantime and I'm working on the "handle" (it's possible to do this in different techniques but I'll stick with Mochilla crochet :-). After that I need to make a drawstring in Kumihimo
(also a new technique :-).

Elk jaar wanneer ik (bijna) met vakantie vertrek, stel ik traditioneel een kit samen voor een nieuw (groot) borduurwerk. Dit jaar is mijn keuze gevallen op een ontwerp waar ik al heel lang verliefd op ben: "Villa Mirabilia". Lekker veel kleurtjes (en daar hou ik van :-). Dit is ook alweer een primeur aangezien ik nog nooit een ontwerp van Mirabilia heb geborduurd ... en het ligt echt niet aan een gebrek aan - mooie - ontwerpen! :-)
Each year around the holidays (July-August) it's tradition for me to start a new (big) cross stitch piece. This year I've chosen a design which I have been in love with for a long time: Villa Mirabilia. Lots of colours (which I like a lot). This will be my first because I've never embroidered a Mirabilia before ... and not because of lack in beautifull designs! :-)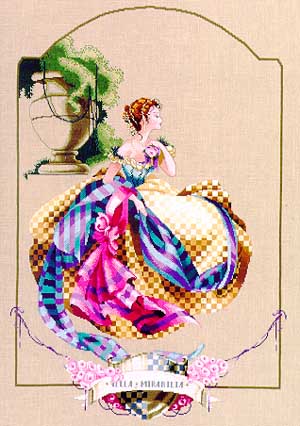 Eén ding staat vast ... het gaat een leuk en creatief verlof worden! ;-)
One thing's for sure ... I'm going to have a blast during my holidays :-)